You must multiply the hourly cost by the number of students in your group.

Most kite schools teach at least, 2 students per kite, and each instructor can have 4+ students, costing 30/40€ per hour.
Because you are sharing the kite, the action time of these classes is less than half on equipment time, as it takes a bit to change gear between students. Also the instructor interaction drops to 25% as you share it with 4+ people.
This means it actually costs 60 to 80€ per hour for the equipment and will take you more than 12 hours just to Waterstart (get up on the board) because half time you're just watching your group members riding.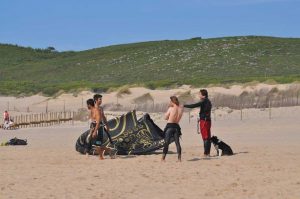 Our most expensive Private lessons are 75€ /h, but buying the 12h Complete Private Course, it can cost less than 45€ per hour and get you riding properly and really independent in the end of the course.
With our system you progress more than 2 times faster, meaning that you will become a really independent kiteboarder, riding with all necessary safety and technical skills in any conditions.
Don't finish your course "almost" going! Progress faster with Private lessons and discover the new way of learning Kiteboard.