Which should I go for??
So you've decided, you're ready to become a kitesurfer and get some kitesurf lessons! Congratulations…that was the easy part 😉
The next decision to be made is an important one, and will impact your learning path (and your pocket!) while you first get to grips with this sport.
GUSTYKITE is one of the first and most experienced schools doing kitesurf lessons in Portugal, born in 2003 in Guincho beach and now operating in Fonte da Telha, just 20minutes from Lisbon.
We've been perfecting our teaching methods since then, leaving group lessons (so called Buddies lesson) back in 2010.
We focus on tailor made private courses to achieve the best quality and safety, with a smooth, linear fun progression
When it comes to taking your first kite lessons, there are usually a few options. Most schools will offer group lessons, semi private lessons (2 students with 1 instructor) or private lessons (1:1). Group lessons will be advertised cheaper than semi private lessons, which will in turn be cheaper than private lessons. However, all is not as it seems…it can take a lot longer to master the basics in a group setting versus in a private setting.
At Gustykite, we prefer to offer lessons on a private basis, and here's why.
Know why you must multiply the hourly cost by the number of students in group kitesurf lessons.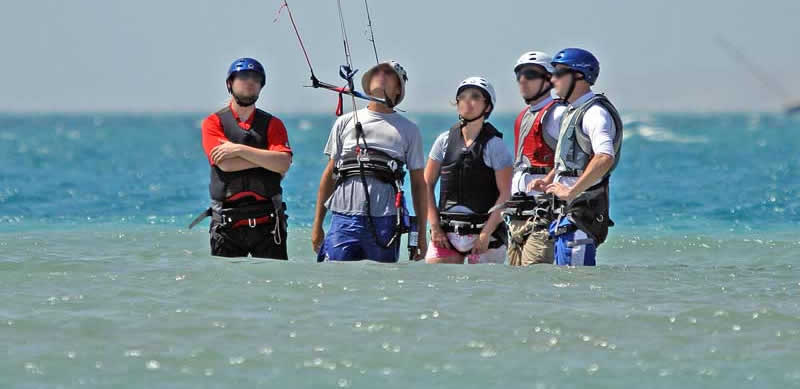 Most kite schools have at least 2 students sharing 1 kite, and in a group setting each instructor can have up to 4 students. This type of group lesson can cost around €40 per hour and it takes students 10 to 12 hours just to waterstart (get up on the board). Typically this is because a lot of time is spent watching your classmates learning.
Because you are sharing the kite and instructor, the actual action time of these classes is less than 50% (it takes a bit of time to change equipment between students) and 25% of instructor interaction and attention. This means that in reality you pay €80 per actual hour of instruction and have to share the instructor with 3 other people.
By contrast, even our most expensive Private lessons cost only €75 per hour, and buying the 12h Complete Private Course, means you only pay €55 per hour.
So although you think you'll be saving money by going for kitesurf lessons in a group, it's not always the case. And we don't have to think only about the budget either…
In a private lesson your instructor focuses on you and your learning, without distraction from others. The lessons are tailored specifically to your skill level, meaning you move through the stages at your own pace – be that fast, or slow – because we all know that each of us is unique, and everyone learns in a different way. Over 19 years of experience has shown us that this method is the most effective way to learn kiteboarding in the long term.
With our system you progress more than twice as fast, meaning that you will become a truly independent kiteboarder after a course with us, riding confidently with all the necessary safety precautions and technical skills for any conditions! And then you can progress to renting your own kite equipment to really improve…
Take a walk through the course and get a feel for our beautiful teaching spots – here
Don't finish your course « almost » going. Progress faster with private kitesurf lessons and discover a new way of learning to kiteboard! Get in touch and let's get you on the water!