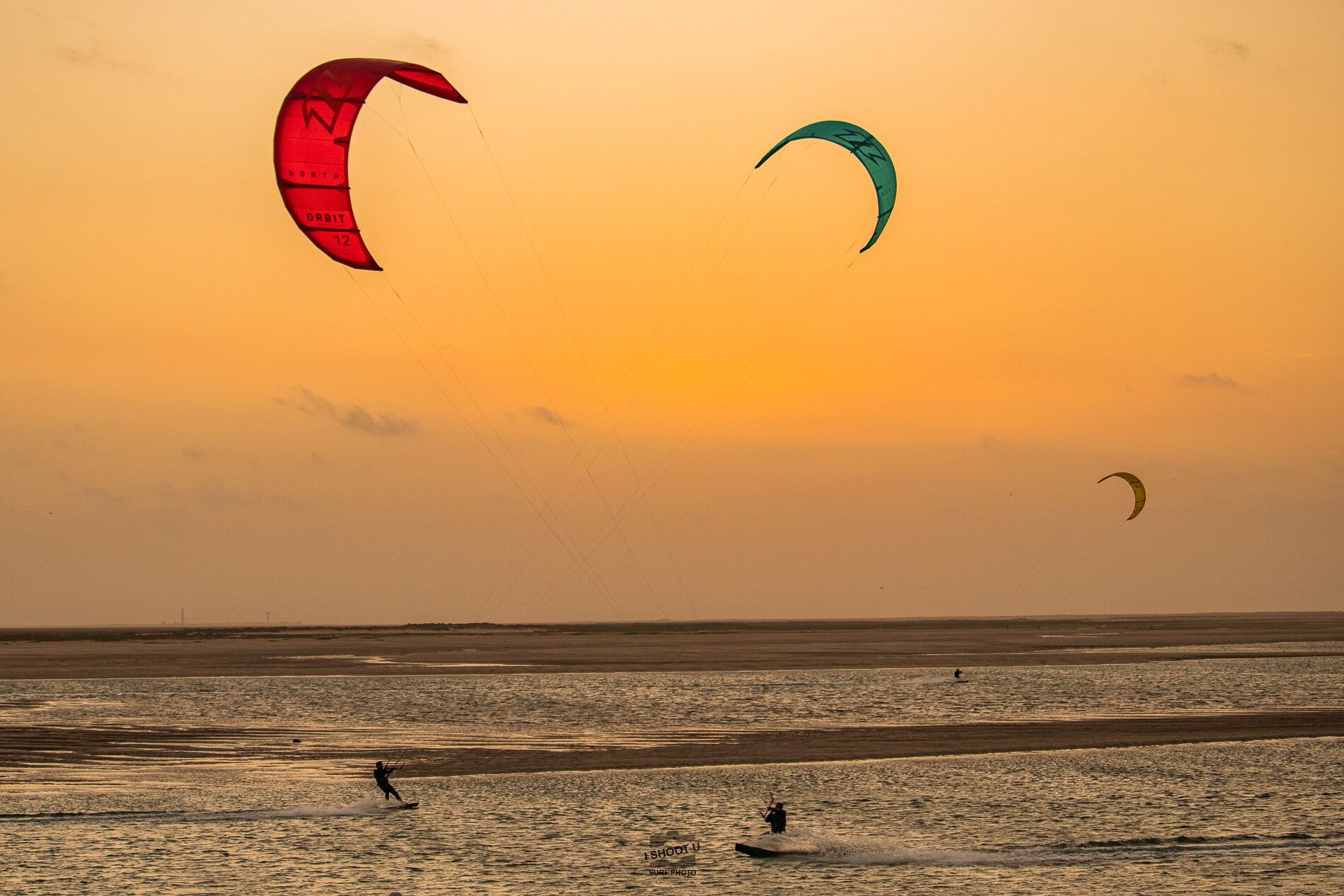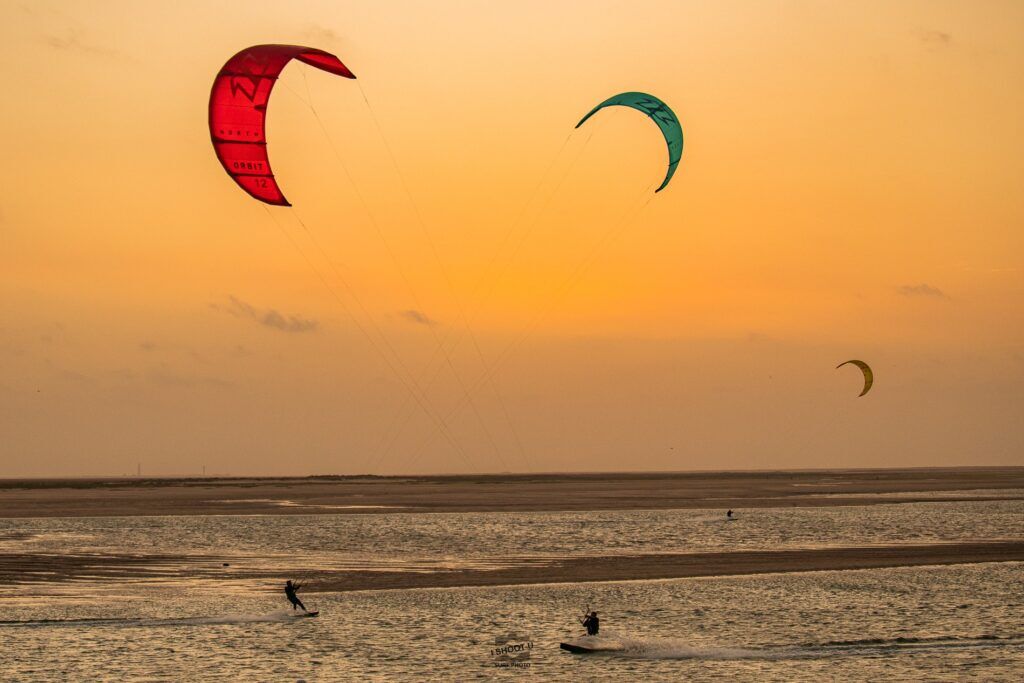 Kitesurfing is an exciting sport, and Portugal has become one of the most popular countries to practice it. With a huge coastline from North to South, Portugal offers different kitesurfing spots for every taste and level, such as lagoons with flat, shallow water, and ocean beaches with waves of different levels of difficulty.
It is possible to practice kitesurfing all year round, but the best time is between April and October, with accessible sea conditions and more constant thermal winds.
From November to March, the sea currents are stronger and the winds less constant so most Kitesurf Schools are closed, and the practice of these modalities is reserved for more experienced kitesurfers.
During the high season, from June to August, the days are longer and warmer, and the sea water temperatures range between 18 and 22 degrees.
Learn kitesurfing in Portugal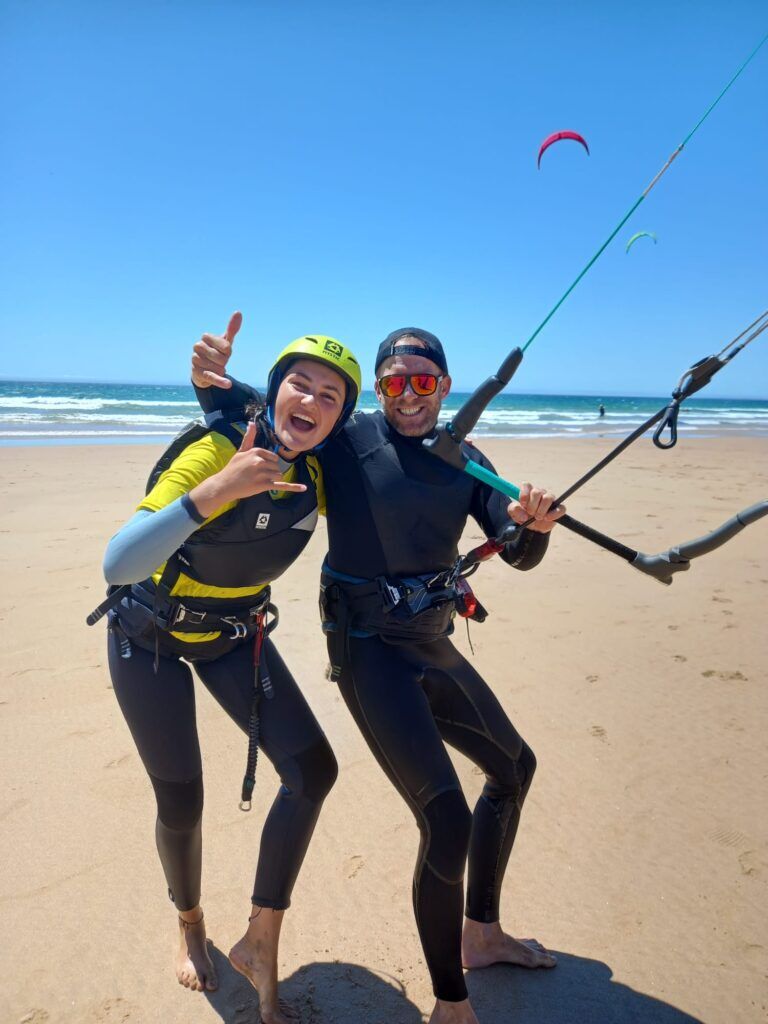 In addition to all the reasons already mentioned, Portugal is perfect for learning to sail, due to the numerous schools available and the high quality of service most schools offer.
Prices are usually quite competitive compared to other international learning places, but negotiating the price already stipulated by the school is a mistake. In Portugal, unlike many other countries such as Morocco or Brazil, it is not usual to haggle over prices, which allows prices to be balanced and fair between schools.
There are several kitesurfing schools operating in Portugal, but you should consider several criteria when choosing one:
Schools with national certification by FPV and IPDJ (mandatory)
Qualified instructors with the mandatory national course and IKO
Good quality, modern equipment (less than 2 years) from recognized brands;
School and instructors experience time;
Top ratings and rankings on Google and other platforms.
Portugal has been recognized as a prominent country in tourism, and therefore increasingly international, it will be very common and easy to communicate and take classes in other languages, such as correct English and French.
Viana do Castelo (Praia do Cabedelo and Praia do Coral) – The most northern kitesurfing spot in Portugal. If your option is to get to know the country in the North, without a doubt that Viana do Castelo presents one of the best solutions!
In addition to being located close to a city full of history and incredible cuisine, the wind conditions for kitesurfing are very good, and you can have spots with shallow water or perfect waves for surfing. However, don't forget to take your thickest wetsuit, as the waters and winds are some of the coldest in Portugal.
Rio Esposende – 45 km north of Porto, in the Cavado River Estuary, this spot is located at the junction of the river with the ocean, providing a wide variety of conditions for beginners and more experienced riders. On the ocean side, with different types of waves, on the other, the river with calmer waters.
Ria de Aveiro – In the center north of Portugal, we find the Aveiro Estuary, made up of several water channels that connect the Ocean to the River, with several known spots for kitesurfing, such as Praia da Barra, Praia Nova and Gafanha da Encarnação.
Lagoa de Óbidos – It's the largest salt water lagoon in Portugal, protected from the fury of the waves and the gusty winds of the Atlantic Ocean, with flat and calm waters.
Its shores are covered with huge sand studded with shells, waist-deep water and milder water temperatures.
Praia do Guincho – One of the best wave spots in Portugal and also in Europe, this is a world recognized wind beach. With strong winds and medium to high strong swells, kitesurfing is only recommended here for very experienced riders.
Caparica and Fonte da Telha – Very close to the Portuguese capital, less than 20 minutes from Lisbon, there are several white sand beaches that stretch for more than 20 km in a natural bay.
The best known beaches in Caparica are the beaches of Nova Vaga and Bela Vista and the famous Fonte da Telha, a typical fishing village with smaller waves, perfect for kitesurfing and wingfoil, due to the moderate thermal wind, and waves that usually do not reach 1.5 m.
Lagoa de Albufeira – Less than 30 km from Lisbon, we find this freshwater lagoon, separated from the sea only by a small sandy beach.
With calm but deep waters, it is perfect for beginners and for progression at any level.
Here you'll have conditions for several water sports such as SUP and Kitesurf, and also, gaining more and more expression, Wing Foil.
Faro – The amazing island of Culatra, Barreta and Armona are some of the most sought-after and well-known areas by kitesurfers in the Algarve, together with the long known Faro Barrinha, where you can find a mix of calm water lagoons and wave areas.
Cabanas de Tavira – Another very popular destination for kitesurfing in the Algarve thanks to its moderate winds and spacious and safe beach area.
Ria de Alvor – Well known for kitesurfing in the south of the country, as it is one of the places with the strongest wind and shallow water, but be careful with the tides as it can get too shallow to be safe.
There are several other places where you can practice and learn kitesurfing in Portugal, including the island of Madeira.
The best thing about this is that Portugal is a small country, which will allow you to discover several spots with different characteristics quite easily in time and logistics.You can explore and get to know the different beaches by bus, train, car, but without a doubt, what we recommend most is even by motorhome / campervan, as you can stop wherever you want and take that warm bath after sesh.